FIRM OVERVIEW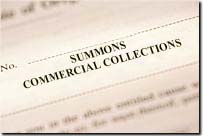 The firm specializes exclusively in commercial collections-the collection of accounts receivable for business creditors from business debtors located in New York City [the five boroughs of New York City, Manhattan, Bronx, Queens, Brooklyn, and Staten Island, known as New York, Bronx, Queens, Kings and Richmond Counties, respectively] and in the Counties of Nassau and Suffolk to the west of New York City and in the county of Westchester to the north of New York City.

The commercial collection practice was begun by Rubin Cohen, who practiced law in New York State from 1930 to 1990. Joel Cohen was admitted to practice in New York State in 1963. The law firm of Cohen & Cohen, father and son attorneys, was established in 1971. Upon Rubin Cohenís retirement in 1990, the firm name was continued by Joel Cohen as a sole practitioner.

Commercial collections has always been, and continues to be, the exclusive specialty of the firm. The firmís clientele is composed of a broad array of business creditors located in the United States and foreign countries. Concentration in this single area of practice enables the firm to direct its entire effort to the expeditious recovery of debts from viable business debtors. Computer technology, consisting of on-line public records and legal databases and in-office databases and word processing, is utilized daily to accelerate and to maximize the debt recovery process.
---
Home | Firm Overview | Profile | Information
Claim Placement | For Clients Only | Frequently Asked Questions | Links | Map | Contact Us